First; take care of yourself. Eat heathy. Exercise daily. However, this doesn't mean starve yourself. You don't have to be thin to be beautiful. As long as you're healthy, you're fine! If you truly think you are unhealthy, see a doctor. Ultimately, you can't be a girly girl if you don't have confidence in your appearance.
2: There are several ways to get the perfect dazzling smile. If your teeth are crooked, don't shy away from braces. Just think of them as jewelry for your teeth! For whitening, you can either do it yourself at home with a store-bought product or go to a dentist. Look for someone who has expertise in the area of cosmetic dentistry to get them professionally whitened
Here are good stores to buy girly clothes;
Forever 21
Rue 21
Wet Seal
Charlotte Russe
Alloy
Dillard's
Ardene
Justice
Victoria's Secret
Charming Charlies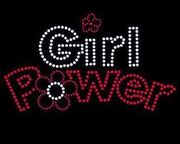 Ad blocker interference detected!
Wikia is a free-to-use site that makes money from advertising. We have a modified experience for viewers using ad blockers

Wikia is not accessible if you've made further modifications. Remove the custom ad blocker rule(s) and the page will load as expected.